Impressions By CVXFREAK.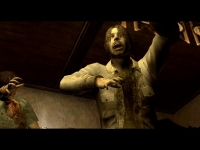 The Resident Evil Outbreak launch party in San Francisco on April 2, 2004 at 6PM was an interesting, although underwhelming event. Around 300 people total attended (give or take about 50), but many gamers couldn't make it to the event because they took the Bay Bridge toward San Francisco but got stuck because of a suicide jumper that never jumped. Too bad for them.
Anyway, I got to the Metreon and parked my car. I walked down the street toward the Metreon when it was about to get dark, at 5:50PM. In front of me was a mentally challenged poor person… quite scary. I finally reached the building and there was a line. I was about the 100th person to get in line. Most people talked about the series in general; how they got into the series, some Hispanic guy bitching at REmake/RE0/RE4 being GC only, some guy who liked the RE4 video, some guy whose favorite RE was RE2. I didn't say anything.
At around 6PM they started entertaining the line with zombie skits. Basically people dressed up as soldiers and zombies started recreating scenes from the game like when a zombie grabs you. I thought it was sorta geeky. But then they started passing out little booklets on the characters from REO, taken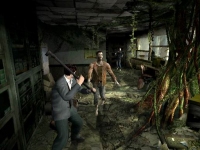 straight from the BradyGames Resident Evil Outbreak Strategy Guide. It's a neat little booklet and is helpful in getting people acquainted with the game. Also given out were nurse-like face masks with the RE Outbreak logo on it. At around 6:30 they finally let us in. The store was designed to show the destruction of Raccoon City. Red and yellow lights were everywhere, providing a dark appearance. Techno-like music was being played to keep the mood high. The zombie skit actors/actresses continued to do their role as entertainment.
There was a little setup stage (off limits of course) that showed a crashed car with a plastic corpse in it. Nearly all the store's game units were playable with the U.S. version of Outbreak while a few TV screens (plasma TVs as well as regular ones) were showing the RE2 movie's advertisement-like footage. Alice was in one of them for a brief moment, but overall it didn't tell much of the movie other than that some pharmaceutical company played a role in the destruction of Raccoon City.
The event took place in the PlayStation Store. This store is filled with kiosks and tables for people to try PS2 games in general but all were setup for Outbreak. The PlayStation store sells a lot of PS2 games, and is pretty flashy overall. Comfortable seats, nice posters, and Limited Edition PS2s were also on sale.
There was also a cash register with several cases of RE Outbreak's for sale. Only one box was opened so not very many people were buying the game. I bought my copy. I estimate about 6 crates that carried 50 copies of the game were available.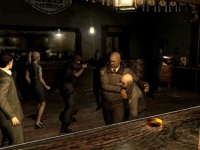 As for the game demonstrators, generally people weren't very surprised or excited. The game obviously takes some getting used to which is why not a lot of people were enthusiastic. Many gamers were getting bitten by zombies and dying, others were watching the introduction FMV. Most were on the first scenario. Overall people seemed fairly disappointed in the title if lack of enthusiasm coupled with low sales were an indication. If I have to estimate, perhaps 15% of all attendees bought the game (a misleading figure because some people came with their family.)
Back when I was in line for the event I was given a raffle ticket. Each person with a raffle was eligible for a drawing. Most prizes were T-Shirts for Outbreak, or strategy guides. The grand prize was both the shirt and the guide, plus the game itself. My ticket number was 9000347. The first raffle number called was 9001347.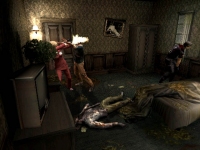 You can imagine me being a little pissed off. =( Raffles were called every half hour. The guide is Dan Birlew's Signature Series BradyGames guide (whatever Signature Series means). It's decorated in a similar cover to the game itself I believe.
I stayed at the event until 7:30. Clearly all that was left for the event were the rest of the raffle prizes and basically people trying and buying the game out until they dropped. So I left. Had I not forgotten my credit card I would have left with an HDD too. =( When I left, people were still coming into the event.
Concluding the event was a disappointment because I already bought and played the Japanese Outbreak and received minimal goodies (although they are cool). It would have been nice if they held LAN contests or held Resident Evil knowledge quizzes for games rather than raffles. It would have been nice if premiere Capcom developers were at the event, but it was pretty fun overall and I hope they hold more of these events in the future.