Summary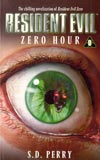 BEFORE THE MANSION
BEFORE THE DISASTER
EVIL IS BORN

Sent to investigate a series of grisly murders in Raccoon City, S.T.A.R.S. Bravo Team scrambles into action. On the way to the scene, Bravo's helicopter crashes. Although everyone survives, what they discover next is gruesome: an overturned military transport truck riddled with corpses - and that's only the beginning of the nightmare. Bravo Team is about to discover the evil that is growing all around them and rookie member Rebecca Chambers is beginning to wonder what she's gotten herself into.
Sample Excerpt
A crackle of lightening flickered across the thickening darkness, illuminating the small but steep hill that marked the deepest part of the forest. Nyberg looked up and saw a tall figure silhouetted against the trees at the crest of the hill, someone in a long coat or robe, the dark fabric rippling in the wind. The figure raised long arms to the raging sky - - and the stutter of lightning was gone, plunging the strange, dramatic scene back into darkness.
"What the?!" Nyberg began, and more water splashed across the glass - except it wasn't water, because water didn't stick in great, dark clumps, water didn't ooze, and break apart, revealing dozens of shining needle teeth. Nyberg blinked, not sure what he was seeing as someone started to scream at the other end of the car, a long, rising wail, as more of the dark, slug-like creatures, each the size of a man's fist, smashed against the window. The sound of hail on the roof went from a patter to a storm, the thunder of it drowning out the screamer, the screams of many now.
Hot panic shot through Nyberg's body, sending him to his feet. He made it to the aisle before the glass behind him shattered, before all glass all through the train was shattering, the high, jagged sound of it melding with the screams of terror, all of it nearly lost beneath the ongoing thunder of attack. As the lights went out, something cold and wet and very much alive landed on the back of his neck and began to feed.
Content provided by: Andy Cordova